Offering the best quality products like Air Pipe To Manifold Y Casting, Oil Filter Header, Manifold Y Casting, Header Oil Filter etc...
About Our Company
Known for offering the best array of items like Breather Lid, Air Duct Manifold, Air Pipe To Manifold Y Casting etc., we, Sentinel Manufacturing India Pvt Ltd, have garnered huge reputation as a manufacturer and exporter. We are the subsidiary of Sentinel Manufacturing Limited (UK). All our offerings are on par with the international standards as we never compromise on product quality. In September of 2015, we established our Gravity Die Casting foundry supervised by our Director of Operations Maruti Deo Kamble. He is the head of a dedicated team which works in our unit situated in Pune. From this wing, we supply our high in class range and offer service to our valued clients.
Thousands of customers are more than satisfied by our product quality and services. They admire our perfection focused approach and honest business policies. For us, their trust is of great value and for that we do our job with complete dedication.
Mission Statement And Our Focus
Our mission is to offer the best brand of components at market leading rates. We aim to provide our team with safe working environment to where they can comfortably do their job. Our objective is continuous improvement of product quality and consistent growth of our company. To achieve more success, we greatly focus on the following factor:
Financial stability
Business culture
Investment on technology
Maintaining quality standards as per ISO 9001:2008 Accreditation
Embracing 'Six Sigma' principals (CPS & Kirloskar "Lean")
Our Vision
We want to offer the best gamut of products at market leading rates. Our team provides greatly reliable stock information service online, live tracking for order and customer care for achieving customer satisfaction.
The Team
All the success we have achieved is because of our team which is greatly diligent. Following is the list of some of our team members:
| | |
| --- | --- |
| Paul James (Managing Director-Sentinel Manufacturing UK & India) | Matthew Taylor (Director of Operations-Sentinel Manufacturing UK) |
| Maruti Deokamble (Director of Operations-Sentinel Manufacturing India) | Prashant Pawar (Production Planning & Control Manager-Sentinel Manufacturing India) |
| Hemant Chawanke (Quality Manager-Sentinel Manufacturing India) | Alice Guest (Sales and Marketing-Sentinel Manufacturing UK & India) |
| Juli Sujit (Accounts Manager-Sentinel Manufacturing India) | Tracy Cooke (Finance & Systems Manager-Sentinel Manufacturing UK and India) |
Sentinel UK And Importing To The UK
By the support of a dedicated team for management, we have been able to import operations with ease. Our P&MS team has been successfully targeting the best and reliable companies for low cost procurement.
Sentinel UK is our mother enterprise which support us to deliver the best solutions to our clients. The company has the support of greatly experienced team which give its best to understand the latest requirements of markets and offer components as per new demands.
Our Foundry And Capacity
In our foundry each process like melting dressing and pouring is done by the support of modern machines. Owing to our huge production capacity and high end facilities, we have been able to offer an incomparable brand.
Foundry Production Equipment

CNC Milling Capabilities

1x300KG Diesel fired tilting melting furnace

2x300KG Electric holding furnace

1x200KG Diesel fired tilting melting furnace

2x600mm x 600mm Automated Tilting GDC

Powerful spindle (8,000 rpm / 83 Nm [40 % DC] / 13 kw [40 % DC]) Tool magazine for 20 tool with fast double gripper

Machining Capacity: Large work area X/Y/Z: 1,035/560/510mm

Machining

LMW CNC Lathe

DMG Vertical 1035v Eco

Machining Capacity: Machining of components up to 1,000 kg

Turning capabilities up to a 265 mm diameter

Capacity and Turning length: Up to 500 mm

MAZAK HMC Twin Pallet




Machining Capacity: Bed Size: 630x630 Weight Capacity: 1200kg



Certificates And Cleaning
Certificates
Our company is accredited with BSI- ISO 9001 for exercising a stringent quality control system. We follow SIX SIGMA philosophy as well as the 8D problem solving culture. For maintaining highest quality standards our company has been awarded with SQEP Award.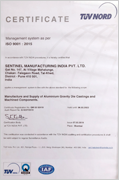 Rapid Improvement Workshops and Cleanliness
Our company is committed to continuous improvements and embrace the policy of maintaining hygienic environment within the premises. The team of experts has its eye on each operation going inside the company. They strive to maintain the smooth functioning for ensuring our strong presence in the industry.
Design And Quality
Design
Our team of engineers make the best use of CAM, CAD, Laser and Optical scans to create incomparable designs which are not available anywhere in national and international markets.
Quality Assurance and Standards
Clients are assured that each item we bring-forth to them is 100% quality tested. The tests are done on various parameters like durability, corrosion resistance and non-destruction. Our range is at par with European Standards of quality. In addition to this, we have been accredited with BSI 9001:2008 certification. In our company, the policies of 6 sigma are embraced which support us to deliver completely non-defective array.
CNC Machining & Special Purpose Machinery
We have earned SQEP recognition in 2015 for having great machinery at our premises. Our focus is on manufacturing capability and inspection facility for last 4 years. The development operations is managed by the UK team of Shrewbury Facility. We own specialised Air Decay pressure test machinery, quick change fixtures and water tank verification equipment. Our Special purpose machinery enable us to deliver world class designs to our valued customers.
Sentinel India Quality Policy
We offer the best quality product range which is manufactured as per ISO 9001:2015 standards. Our products for industrial and automotive applications are in great demand in markets owing to the features of our array. By focusing greatly on quality, we aim for:
Complete customer satisfaction
Popularity across the globe
Huge client base

Most Popular Products
Contact Details
SENTINEL MANUFACTURING INDIA PVT. LTD.
Gate No.147, Chakan Talegaon Road, Mahalunge- Chakan,Khed - 410501, Maharashtra, India
Phone : +918037301345
Mr Pradnya Shetty (Marketing Manager)
Mobile : 918037301345